When beginning your journey into emergency preparedness, you can determine the type of process to complete your plan and the level of involvement you want to have when compiling your emergency supplies. For example, some people desire to create DIY survival kits. This is common in families where one member has specific dietary requirements, or any other type of special need. Others prefer for the experts to do the planning and logistics and desire to purchase complete survival kits or complete food storage solutions. Regardless of the method you choose for executing your emergency plan, food companies will play a vital role in the process.
Following are the industry's leading and best emergency food companies. They specialize in long term food supply and storage options as well as short term food supplies. We have carefully evaluated each food company brand, and have only included recommendations for those services that provide high quality products, strong customer support and that have demonstrated a commitment to meeting the emergency preparedness needs of their customers. We include a brief overview and a link to a longer review about the company. Before making any type of purchase, we recommend taking the time to read the long reviews to really gain some insight into the services and philosophy of the company to ensure that they align with your own approach to disaster survival.
Best Emergency Food Company Reviews
Before we can recommend any type of emergency food supply company to our visitors, we must thoroughly investigate the options that are available.  We must prepare and taste samples of their food, interact with their sales staff and customer support team, and compare the value and quality of their products.  We don't believe in simply regurgitating what others have said about a company, we want first hand experience. Because of this, the evaluations take time to complete.  As they are completed, access to a thorough review on each brand we recommend will be posted here.  Following you will find our input regarding various emergency food supply companies and what they have to offer the prepper community.
Buy Emergency Foods Company Review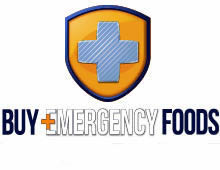 Buy Emergency Foods is well known in the disaster preparedness and survivalist communities. Their food frequently receives "best tasting" awards and accolades. The main focus here is on food, but water storage, survival kits and emergency fuel options are also available. Unique products like dried honey power and dairy items, along with free shipping on all orders all the time, give the online prepper even more reasons to visit this top rated disaster preparedness supplier. Gluten-free foods, larger serving sizes, food for less than $1 per serving and a guaranteed lowest cost per emergency food calorie all showcase why BuyEmergencyFoods is frequently rated as the top emergency and survival supplier online.
Wise Food Storage Company Review
The Wise outdoor emergency food company has been providing preppers, survivalists, hikers, campers and other outdoorsmen with long-lasting food packages since 2008. Regarded as an industry leader, Wise Food Storage offers gluten-free food kits, freeze-dried foods including meats, fruits and vegetables, powdered dairy and eggs, as well as survival kits. Their food is priced at around $1 to $2 per serving, making affordable long term food storage solutions possible for everyone. Shelf life runs 7 to 25 years.  Click the button below to read a detailed review on what this company has to offer the prepper community and how their products are rated.
The Ready Store Company Review
The Ready Store was developed by Amy and Jeff Davis. They belief strongly in self-reliance and disaster preparedness. So they started their own prepper company, beginning with a single product, a 72 hour bug out bag. Today the company offers emergency long term food storage products, MRE meals, emergency water storage and survival gear. Survival kits, food and water, emergency fuel, backpacks and emergency power products are all offered at The Ready Store. The company offers a unique Price Match Guarantee, an ever-changing Daily Deal and Clearance selections for some outstanding buys. This allows you to shop conveniently and quickly in one place, rather than bouncing around all over the web spending a lot of time looking for the survival items you need.
My Patriot Supply Company Review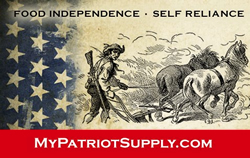 My Patriot Supply is US owned and operated. They are also one of the best known and most popular emergency survival food suppliers on the Internet. The company's belief is that real patriotism comes from being able to take care of yourself and your family, without becoming someone else's responsibility. They highlight this belief by offering heirloom seeds, water filtration, survival gear and emergency survival food products. However, they also believe in educating preppers, outdoorsmen and women, and survivalists through their free Self-Reliance Blog. My Patriot Supply offers free shipping on any order over $49, is well known as one of the most extensive heirloom seed destinations online, and provides a layaway program so you can prep on any budget and on your schedule.
Nitro-Pak Company Review
Nitro-Pak addresses all your prepping and survival needs. Short term and long term food supplies, cooking stoves, emergency radios and vehicle kits, bug out bags, camping gear and even long term ice cream is available and very affordable. This is one of the few disaster and survival suppliers online that delivers a true "one-stop shopping" experience. The Mountain House emergency food items Nitro-Pak sells offer a 30 year storage life (tested and documented), the longest in the industry. A low $9.50 shipping fee is applied to all orders under $249, no matter how large. You benefit from a low price 110% guarantee, 180 days no questions asked return policy, gluten-free choices, and a DEALS section that we highly recommend you check out at least once a week (seriously, some really good prices on great products in the Nitro-Pak DEALS section). One of our highest rated long-term emergency food and survival gear suppliers.
eFoods Direct Company Review
EFoods Direct offers more than just emergency long-term food supplies. Survival books, water purification products, grab and go kits, a personal blackout backpack and survival seeds are all available at the company's easy-to-use website. Kosher certified gluten-free products are offered. You can consider EFoods Direct as the granddaddy of the online survival and disaster preparedness companies, as they have been around since the 1980s. The company's founder was raised by a man who was ahead of his time, prepping and living in true survivalist fashion. Because of this founding father's hands-on disaster preparedness education, EFoods Direct offers just what you need to prepare for the day the SHTF. The company's $10.95 Disaster Food Planning Guide comes with 8 servings of great tasting emergency food and a disaster food planner, and is a great way to taste-test this US owned and operated prepper supplier.  We like a lot of things about this company, however we would love to see more variety and selection when it comes to their food kits.
Reviews on additional brands are currently being created as our team of analysts and experienced preppers completes thorough reviews of the leading emergency food supply companies and the products and services that they provide.  As we complete this portion of our review process, we invite you to check out the various categories of emergency food supply solutions that we cover in this guide, including the following: