About Buy Emergency Foods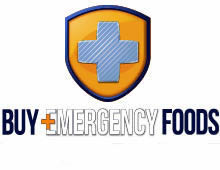 Buy Emergency Foods was founded in 2011 in Salt Lake City, Utah, and offers a very wide variety of freeze-dried and dehydrated food products. Most Internet emergency food companies stick to food only. However, this company also offers Fuel, Survival Kits and Water Storage sections on its website. One really nice benefit you receive that the company's competition does not usually offer is free shipping on all orders, all the time.
Another innovative strategy involves free gifts when you buy many products, rewarding you with disaster preparedness emergency items that complement your main purchase. The company also delivers a free Food Storage Buyer's Guide, bulk discounts and a guarantee of the lowest online price per calorie. Ordering is available both online and via a toll-free telephone number.
Products and Services
The company guarantees a minimum of a 25 year shelf life on all of their food products. Food is delivered in double thickness mylar pouches, which are contained in rugged, stackable, rectangular BPA free buckets. Buy Emergency Foods breaks down their emergency food offerings 4 different ways so that you can easily and quickly find what you are looking for:
Their emergency food products are categorized by storage type and other individual characteristics. The subsections here include All Food Storage, Meal Packages, Single Buckets, Samples, Gluten-Free, Bulk Ingredients, and Pet Food.
You can shop this subsection by Entrées, Breakfast, Freeze-Dried Meats, Side Dishes, Drinks and Meal Replacement Shakes.
Bulk items are further sub-categorized as Proteins, Fruits, Dairy, Vegetables, Grains and Specialty Items.
Serving sizes range from 60 to 4,320 serving packages.
As far as non-food emergency gear and survival items are concerned, the products offered are as follows:
If you'd like to learn more about various categories of emergency preparedness supplies in general, we have multiple guides in place to assist you, including the following:
Quality and Value
Legacy Foods conducted a blind quality taste test, comparing their offerings against other well-known competitors in the emergency food marketplace. 4 out of 5, a very impressive 80%, of all tasters voted the Legacy Foods offered through Buy Emergency Foods as the best tasting. Since the company guarantees the lowest per calorie price among all emergency food suppliers online (judging on a 2,000 calorie basis), the value is as good as you will find anywhere.
Promotions and Offers
One highlight of this company is the wide variety of products that they discount and the special promotions they regularly offer.  They are currently offering a great Gift With Purchase Promo:
Current Promotions
Free Emergency Survival Bottle with $400 – $999 Purchase ($35 Value).  View Deal
Free Stove and Fuel Source with $1000 – $2499 Purchase ($98 Value). View Deal
Free Premium Survival Kit with $2500+ Purchase ($265 Value). View Deal
The company has a standing offer of free shipping on all orders, all the time. It may not really be considered an offer, but prepper and survivalist forum members have mentioned they really like the fact that there are gluten-free options, larger serving sizes, and the fact that products are made entirely in the United States. A free Food Buyer's Guide is downloadable from the official website.
Shipping Information
Buy Emergency Foods ships to the lower 48 US states through UPS Ground for standard shipping on all orders. Orders usually ship from a company warehouse within 1 to 3 business days after you place an order. Expect an additional 3 to 5 business days for delivery. That 4 to 8 day delivery time, considering shipping is free of charge, is one of the quickest in the online emergency food suppliers industry. (Alaska, Hawaii and Puerto Rico residents are charged a small premium for shipping. Canadian buyers pay for shipping.)
Pros
Free gift with most purchases
Guaranteed lowest emergency food cost compounding calorie
Voted best tasting
Gluten-free choices
Made exclusively in the United States
All food is non-genetically modified
25 year shelf life
Free shipping on all orders
Extra-large serving sizes
Informative blog
Cons
Does not ship internationally
Canadian buyers must pay for shipping
Packages are ready-made, not customizable